This is just my thoughts following on from some of the ideas put forward in the Nodes Workshop.
I am a big proponent for handling the data in the node tree as lists (or attribute columns) as opposed to as attributes that are irreparably tied to the enigmatic "Geometry" socket. I think attributes are an excellent solution to sharing parametric data around Blender, especially as we gain more editors, and they also make sense for being able to send data long distance within a node tree where the noodles would clutter the view.
People have always talked about the issue with very linear node trees caused by the attribute workflow but a lot of the feedback that I've had through YouTube or Discord has been about how unreadable they make the logic and how slow it is to create a system. I do appreciate that the Attribute Processor's task is to change the workflow to allow nodes to be used as in shaders with visual connections that allow for reading the logic and therefore no typing out attributes. I would maybe argue that if the processor is being added to cover a UX issue, perhaps the solution would be to roll out that workflow paradigm more widely. The Attribute Processor still has the issue that it can't create new geometry, it only manipulates existing attributes on existing geometry which makes its utility in a true parametric modelling setting somewhat limited.
A disclaimer; my main experience comes from Grasshopper (for Rhino3D) and Sverchok (addon for Blender) and a little Animation Nodes (addon). I have used Geometry Nodes fairly extensively but I am coming to it from tools that are more focused on lists of data. I am also only an artist with effectively zero understanding of limitations and impediments under-the-hood with developing this kind of system.
For ease I will just illustrate these use cases with Sverchok although I'm not suggesting to copy the workflow, just to show simply common modelling techniques that benefit from columns sans geometry.
I think one of the current problems of Geometry Nodes is the idea that geometry needs to be made and then modified. Any float list could be combined to create a vector list and any vector list could be read as vertices and the length of a list should be able to be changed on the fly based on the initial inputs rather than being restricted to what geometry is already existing. Especially relevent when doing this sort of entirely node-based workflow is having some method to mesh later on in the process. A large part of the process is going to be manipulating vectors without altering edge flow, in which case the other parts of the geometry can be inherited from the earlier stages (much the same as the current GN strategy with controlling the position attribute). For these more parametric workflows there's often more of an emphasis on using curves and surfaces as opposed to meshes as you can easily evaluate points, trim, extend, join etc without losing the accuracy of your system. Compare this to using mesh objects and if you want to maintain accuracy you need extremely high resolutions right from the start. The parametric integrity and workflow flexibility of curves makes them an ideal tool in these systems.
I think there is more merit in the attribute workflow when Geometry Nodes is being used to create a complex modifier similar to Macros or Actions in other software. Even with the list workflow you can still take an input geometry, put it through some transforms, edit parts of it and then eject an updated geometry at the other end.
This rock formation takes a guide geometry as input, distributes points, separates into 3 levels, creates edges between levels 0-1 and 1-2 and then evaluates multiple points on those edges. These vectors are then used in Geometry Nodes with points to volume and volume to mesh. Several displacement modifiers, remesh, subdiv and displace later and it goes back into Geo Nodes for foliage. If this was all within Geo Nodes then that suddenly becomes a "Rock Formation" asset which allows artists to feed in only guide geometries and output macro rock structures for environments. I can imagine a similar utility for architectural panelling and types of common structure like waffel structures.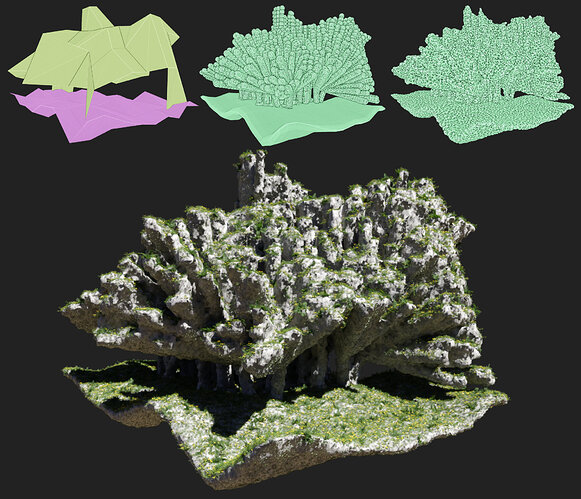 It feels like attributes should be used more around the edges as an artist when needing to get or set, the actual bulk of the handling of data and logic should be something visual and artist-friendly. There are many more use cases but legible logic and being able to intuit your way to an answer are two solid votes for list / attribute column workflow in my opinion.