Weighted Normals - Face Strength
I am not sure if this is small enough to be a UI paper cut, but I think this definitely requires some attention.
Mesh -> Normals -> Set Strength/Face Select does not work at all. Unless Weighted Normal modifier is added and Face Influence is enabled. This is very confusing. Average Normals has Face Area option that should be able to use Face Strengths as well and it does not. Face Strength should be considered to be Face Data and controlled from the n panel same way as edge and vertex data is: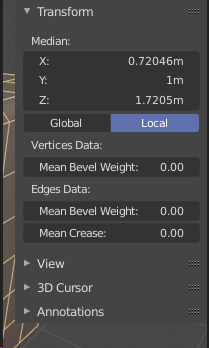 This image also raises a question - why is vertex data and edge data under Transform category?
At the moment Face Strength is in Properties Editor's Active Tool and Workspace tab and at the top bar in the top right corner. There is no logic for these settings to be there, they have nothing to do with the Active Tool or Workspace.
I have seen only people who either don't understand how this works or just think that it just doesn't work at all because it's in development. I thought that too at first glance.