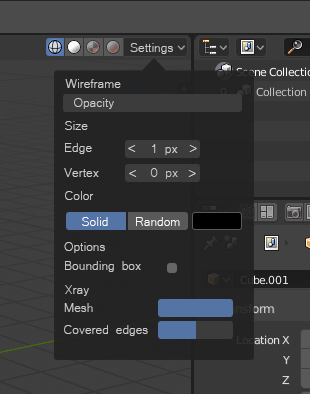 Overview:
The wireframe mode in blender has been a useful tool that is used by most users. However, as of 2.8 the mode has been removed and replaced by a setting hidden in a menu that requires multiple clicks. In my mockup it has been made a separate view mode which allows it to be activated with one click. Another upside is it allows more options for users to customize it; similar to the other modes.
Opacity:
Adjusts the opacity of the wireframe.
Edge and Vertex Size:
Gives the user the option to change the size or completely turn off vertexes and edges.
Color:
The "Solid Color" option allows the user to change the color of all wireframes. The "Random Color" option is similar to the option in solid view mode. This can be useful for scenes in which there are many objects.
Bounding box:
lets the user toggle the bounding box on or off
Xray:
the mesh slider works similar to how xray works in the other modes but covered edges effect faces that are facing away from the user and this can be useful in situations where you may only want to focus on the faces facing you or want to see back faces better