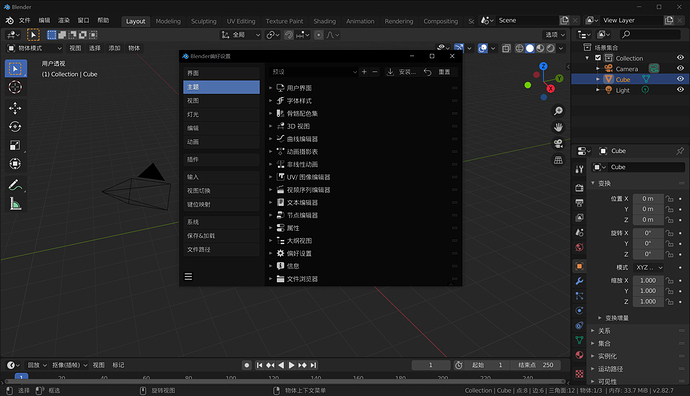 I think the title bar of a common control should be able to do it, just the title bar and the window border, so that it can be more harmonious and unified with the modern appearance of Windows. Use a black title bar when the system color is dark and a light title bar when the system mode is light.
I still want to see Blender in line with the modern UI of Windows. Includes title bar, maximize minimize and close buttons, window borders. If you can, you can also use the Windows common controls on the menu, maybe this is a better wish .
Reference: UWP Universal Controls
docs.microsoft.com/en-us/windows/uwp/design/basics/design-and-ui-intro#controls
About Fluent Design:
medium. com/microsoft-design/fluent-makeover-photolab-a583d25f362b
On how to use Fluent Design and XAML in Win32:
Windows 10 now enables you to use UWP controls in non-UWP desktop applications so that you can enhance the look, feel, and functionality of your existing desktop applications with the latest Windows 10 UI features that are only available via UWP controls. This means that you can use UWP features such as Windows Ink and controls that support the Fluent Design System in your existing WPF, Windows Forms, and C ++ Win32 applications. This developer scenario is sometimes called XAML islands.
Announced at Build 2018 during the keynote:
developer.microsoft. com/en-us/events/build/content/announcing-uwp-xaml-islands
XAML Islands Demo
developer.microsoft. com/en-us/events/build/content/fluent-design-system-demo
Entire Fluent Design @ Build 2018 playlist
developer.microsoft. com/en-us/events/build/content/fluent-design-system-evolution?playlist=41f18bdd-6d5a-44b9-8586-0fa36ed91c45
Documentation here: https://docs.microsoft.com/en-us/windows/uwp/xaml-platform/xaml-host-controls