---
Why hello there!
Blender 2.8 will come with a bunch of assets to make artist's life easier. You have already provided awesome resources and feedback on the built-in MatCaps for 2.8. Next in line: Studio Lights!
What are Studio Lights?
Studio Lights are basically images to light your scene, without affecting your actual light objects. These images are part of your Blender install and can be customized, just like MatCaps. So they make it very easy to test your models with completely different lighting with the click of a button, instead of setting/appending a new world environment every time.
These are available in the Look-Dev/Material shading mode: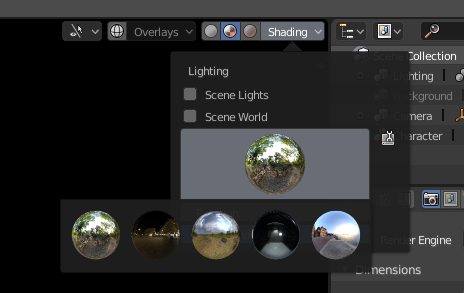 The Plan
The idea is for Blender 2.8 to ship with a few built-in HDRIs. Since these files can take up some space, we'll limit the amount to 5 (maybe 8 or 10 max depending on their size). They shouldn't add more than 2mb to the final Blender install. More HDRIs can be downloaded via the asset manager in the future.
The key is to have variation and to cover typical lighting situations. Something like:
Exterior Day
Could be an outside shot of nature, another one of a city. Sunsets are nice but introduce way too much color variation. It's a nice extra though.
Exterior Night
Good for testing contrast and reflective surfaces.
Studio
Always handy to have a 3-point lights setup. Strong rim and a defined key to see specular points clearly.
Clear Color
More likely not a picture but a clear gradient divided by the horizon. Useful for checking reflections on materials without introducing noise from real pictures.
The Candidates
These are 5 images as an example. Already available in the experimental builds.







We Want You (…r feedback)
What do you think of the current candidates?
Do you have a better replacement for each category?
What categories are we missing? (ext. day/night, interior, studio, clear).
Want to contribute your own? Keep on reading!
Contributing
Same policy as the MatCaps applies. Images should be your own or clearly from a Public Domain (CC 0) resource. For example, the current selection is taken from hdrihaven.com. Other sources like Blender Cloud also provide public domain HDRIs.
Specs should be as follows:
At least 4K (4096x2048). Mainly to be future proof, since the final asset will be 1024x512.
Full Float EXR (32 bit)
They should also feature proper exposure for lights/shadows to work nicely. For example if you test the selected HDRIs with Cycles you'll notice some give a sharp shadow, some a softer shadow. We should keep this in mind as in the future they could be available to use by Cycles or when EEVEE supports automatic shadow generation from the HDRIs.
---
That's it! With Blender 2.8 still in Alpha this is a great time to get a more ready-for-production Blender 2.8 before the Beta is out. Deadline? Before the Beta (ETA late October) for sure, but hopefully we can all agree in a nice set before that. There's plenty of other built-in assets to think about.
Thank you for being part of this!
Pablo
P.S: What about diffuse lighting/solid mode? Well at the moment the HDRIs images are used for that as well, but more work will be done to make the lighting a bit more appealing and not so dull, as it is now. First let's focus on the HDRIs for look-dev.