I have some issues with how the Solid/Workbench shading color options work.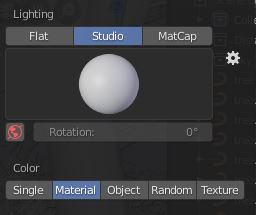 My problem with the Material color option:
It does not show the material's color. It colors things by a few parameters defined in (or rather associated with) a material, but it does not show the material's actual color.
It's like the Object color option, except the viewport display colors are defined per-material rather than per-object.
While there is definitely usage for that, I am much more often interested in displaying materials' actual color. I want to see my materials with flat lighting or studio lighting, and as far as I know there is no simple way to do this.
This also relates to the Texture color option:
The Texture color option actually uses the material's base color – that is, only if an image texture is plugged into it. If you go that far, why only image textures? Why not procedural textures as well?
I work a lot on game environments in Blender, and during the design process I like to mix image textures, procedural textures and vertex colors to try and define the look.
In my opinion, it should work this way:
The Material color options uses the material's actual base color, roughness and metallic values. If an image texture is plugged in, then that texture is displayed. If a procedural texture is plugged in, that's what's displayed.
Then there's some other option called "Material Viewport" or something, which acts as the Material option does now – it uses the Viewport Display properties of the Material.
To me, this makes more sense and is more useful.
Does anyone share my issues or otherwise agree? Disagree?