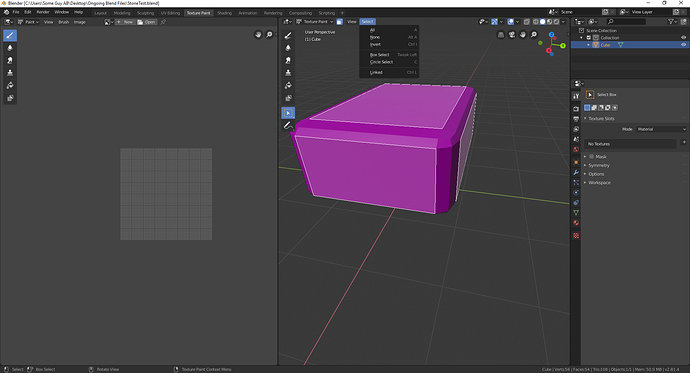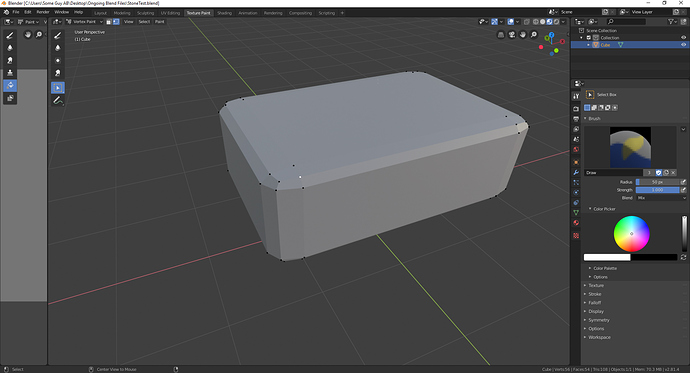 I have a few questions about the Texture Paint & Vertex Paint mode.
Background:
I was looking into ways to bucket fill certain faces with different colors in texture painting, for my texture painting workflow. I noticed a few things that didn't seem right, as inconsistent to other parts of blender.
It seems the 'Select Box' option on the left side menu is placed second last in that menu. This is inconsistent with other parts of blender. I wonder if this is intentional?

The select menu (see screenshot above) here in texture/vertex paint is lacking all the advanced selection types … like Select Similar, Select Random, etc. Is this also intentional? This is the most annoying part for me, when I have to tediously select faces on a complex mesh.

There is a Face selection icon besides the 'View' and 'Select' menus … but it seems to be called 'Paint Mask' which is a bit confusing, given there is a seperate 'Mask' tool in the left side menu. Besides, as far as I understood it, it doesn't actually 'masks' (which is hiding something), but selects or 'Isolates' faces (which seems to be right word to me). Perhaps I'm wrong?

In vertext paint (see second screenshot) … while selecting vertices, it seems no borders are formed, like when in editing mode. Is this also intentional?