Hi,
I am working on an overhaul of the keymap for Blender 2.8. Given what an unmaintained mess the keymap has been past few decades, the process is very lengthy and takes about 5 days of full time 10/hours a day of work. I am almost done, but right now I am having very hard time dealing with Grease Pencil key bindings.
The biggest issue is obscene amount of identical key bindings duplication across the entire software, but Grease Pencil in 2.8 brought it to a whole new level. It adds yet another layer of duplication on the already existing layer of duplication in the Blender itself.
In 2.8, amount of GP keymap subcategories grew from 2 to 8, and every single of them duplicates quite a few of the same keys within the Grease Pencil itself! I highly doubt anyone will ever want to have different key bindings for adjusting brush size in Grease Pencil Draw Brush mode vs Grease Pencil Paint Brush mode for example.
Since the mess is so severe, with no intentions of clean up on the horizon, it should at the very least not be made worse. Grease Pencil was branched off, then worked on, and then merged back in during codequest.
Blender developers are known for being notoriously strict when it comes to code quality, so I highly suggest that the same strictness is applied to a keymap clarity when patches are being merged, to prevent breaking already extremely fractured keymap to even smaller fragments. This is the keymap for just one small piece of blender dedicated to drawing 2D lines. Make sure to click the image: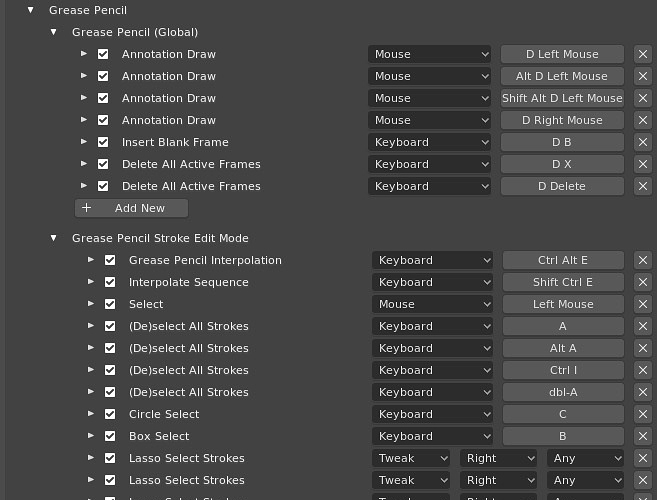 You may have as well just hardcoded that, because you can not reasonably expect any end user to dive in and spend time customizing that, then dealing with potential conflicts.
There need to be some standards to avoid key duplication, and they need to be enforced, strictly. Otherwise, with every new merge of an updated module which adds another operations, the already tiny chance of ever fixing the keymap will become even smaller and harder to achieve.