Problem
Something here is linked, but what?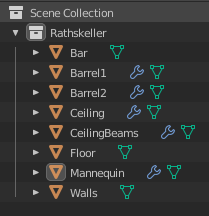 You can't see it unless you know what to look for:
Also, I'm fairly sure I linked an entire object, and not mesh data, but that isn't obvious at all.
Solution
Linked things should always appear at the top level:
Additionally, selecting the linked object should reveal a linked panel with easily accessible information and options for re-linking/unlinking/etc:
EDIT: So apparently, I did accidentally link a mesh instead of the entire object, because when you link an entire object you can't bloody move it for some ungodly reason, so I still think the above suggestion is valid, except with the following critical addition to the panel…
EDIT 2: The above workaround seems to not work anymore? I guess that's a whole different topic then, because dear lord… well, I just turned this into another topic nobody will care about, didn't I?
EDIT 3: Wooooow… linked collections are linked by name, and not some internal ID?

The above link broke because I changed the name in the original file! (At least that has a clear icon…)