Hello, I imagine in the future there will be a proper thread for Asset Manager, but I prefer to give my feedback right now first to see if there are others who agree with me and also, if potentially something is considered by the developers, to not make changes too late in the development.
After trying a little bit the Asset Browser and specifically how it handles materials, here's are my two cents: for me the material browser should become not only the space for storing materials, but to actually create them and assign them to objects, substituting completely the material slots and material list. You would have an option in the materials browser to create a new material, which you can then assign to any objects you want, instead of creating a material inside an object, make it an asset and then having the possibility to assign it to others, which to me looks like a very convoluted process: In the exact moment I create a material, I'd expect that material to already be part of the material browser.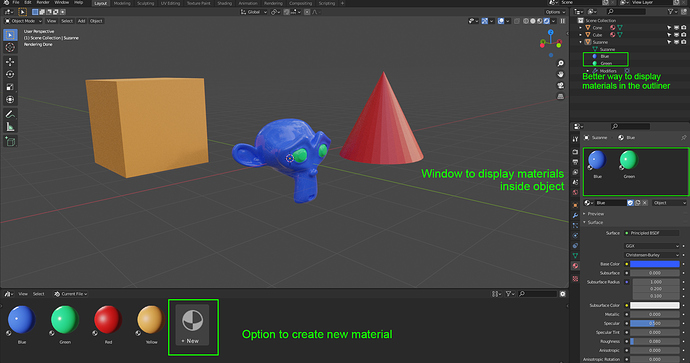 For me, the option of making the material an "asset" should just give you the possibility to store the material in the asset library and have it across multiple files: this is already in the scope of Asset browser, I think it just needs some polishing and a different behaviour for the "current blend file". I understand that creating a material in the asset browser, for how it has been thought so far, is a different kind of feature, but I really think it could improve and reduce the steps for creating materials and have them as assets. Possibly, if not part of the material browser, it could be a separate editor just for materials!