I'm a developer of Blender - Organizer. I know It's not the most clever name. But it sounds exactly what it does.
So little story. I was 18 or something. And was trying to blow everybody away with the greatest film ever done only by me. And as all dreamers you go through a realization that it's going to take time or you are not going to be able to make it.
And the hardest part wasn't even the modeling / animating part. But keeping track of everything. Knowing what I'm doing when. And also figuring out how much I've done.
So after trying printing papers and using Libre Office Calc for a long time. I figured out that I need a better solution. Something that will make way more sense.
I knew a bit of python from BGE because every kid loves to make a game. And learning to use something like GTK wasn't too hard. Because they have a very nice documentation where I can grab an element I need and after 15 minutes of figuring it out I can use it.
Movie came out 1 month before deadline. It wasn't the best. My animation is still not the best. And I used terrible amount of early denoiser. If you are interested. It's called "I'm Not Even Human"
Then came my next little movie project. And I knew I need to redesign the hell out of the Blender-Organizer. Write as much of it as custom UI so I could have more flexibility.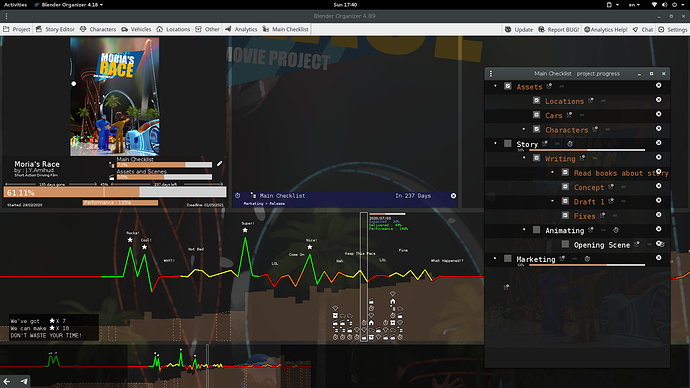 Now We have a cool colorful, gamified analytics with calculable, collapsible checklists.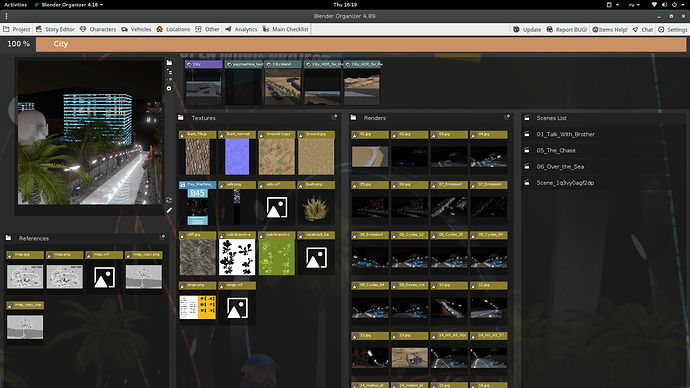 Asset manager. With blend file generator, list of scenes a given asset is in. And so on.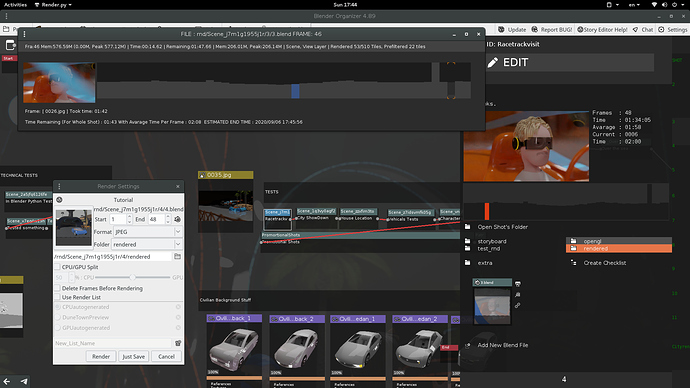 And a crazy powerful Node Based STORY EDITOR. That let's you mark assets and shots right into the script. Generates shots folders. Have automatic linking of assets into the blendfiles. And has crash-proof renderer that records render times for analytics.
Now At the moment I'm not working on it. And the reason is the stupidest one. I just have no idea what to work on. Anybody can help me?

VCStudio and Blender-Organizer are free-software packages for organizing animated project. Primarily to work with Blender3D. It's written in python and distributed as a set of scripts. So in theory with little work you can make it run on any OS. It's licensed with a GNU GPLv2 license. Primarily developer of the project (2018 - 2020) is J.Y.Amihud (also known as Blender Dumbass). Some projects done with this software may include I'm Not Even Human, The Package, The Car & The Time Is Running Out and Moria's Race.