I want to change the 'edge' option in the edit mode overlay panel to be ON by default for Blender 4.0, because the selection visibility in 2.8+ versions is much worse than in 2.79 or earlier versions. When modelling for many hours, I've felt that 2.8+ can lead to more eye strain or fatigue. When modelling we often do edge operations regardless of selection mode, so it's important to see well what edges are selected in any selection mode. Turning edge highlight ON also helps differentiating between faces, and seeing the selected vertices. I need user feedback if you agree with this change. Also because when on it uses the theme color instead of a lighter black and a darker orange on edges.
Edge highlight comparison: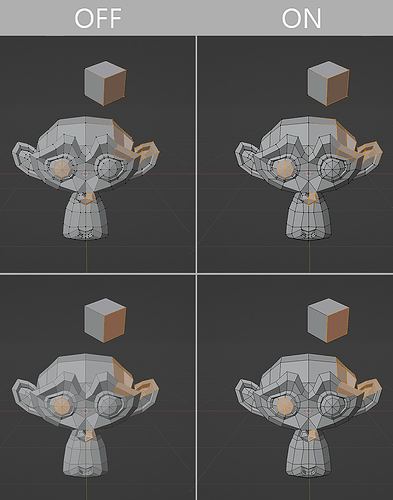 ---
YES PLEASE
I DON'T CARE
NO THANKS
By the way, the selection visibility was so bad in wireframe mode that Campbell already hardcoded this to be on by default in wireframe view years ago.
For the people who are against this default change, can you provide any reasoning why? I could make tweaks to please everyone.