Present: Bastien Montagne, Brecht Van Lommel, Dalai Felinto, Julian Eisel, Ton Roosendaal
Meeting to define early development targets and next steps.
Asset Management vs. Browsing
Asset Management is a huge topic. Many open questions and unknowns.
Focus on creating an Asset Browser - a UI in Blender to browse assets and edit asset meta-data.
Asset Management solutions (e.g. Cloud Add-on, BlenderKit, a Kitsu-Blender bridge) should be able to hook into the Asset Browser UI. They remain separate systems from Blender's core.
The APIs for that are for later milestones.
From a project perspective, assets management appears on 3 distinct levels:
Project
Management of the mass of assets required for the entire project, typically with production tracking software (e.g. Attract).
TD
Assets assembled for specific shots or persons/departements.
Artist
A user's personal collection of assets (may be project specific or not).
Blender will deal with levels 2 and 3. Level 1 will be done in actual production/asset management systems.
User Stories
The project will focus on the following use cases for now: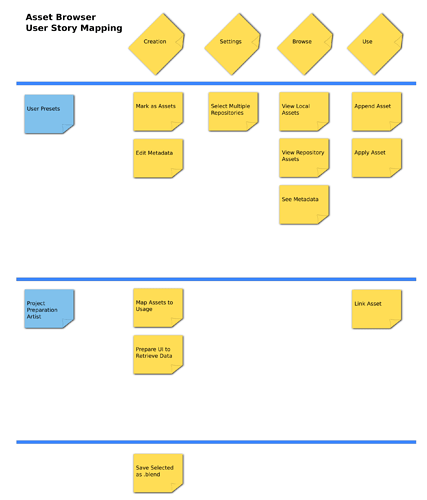 This map will be updated and expanded on.
Design notes
Some informal design notes for the first iterations:
Repositories

Set via Preferences
Stores .blend files
Rules needed to define when asset data is (re-)loaded

"Adding" assets always only for current .blend

You have to save for assets to be registered!

Viewer (aka Browser)

Select assets
Add properties/meta-data ("edit")
Process
Get something tangible to look at and evaluate early.
Agile process, with iterations of one week, each with defined targets.
(Given Julian's other responsibilities, the iteration week may have to be spread over 2-3 actual weeks)
Always have a working (even if limited or buggy) system after each iteration.
First iteration: Initial Asset Browser UI, working for Materials or Objects.