The names of text object settings do not match the names of the equivalent settings in geometry nodes: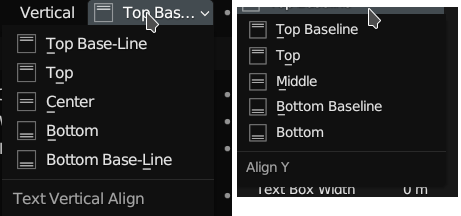 Would a patch to fix this inconsistency be welcome? And if so, which direction should I copy things in? I was told since the geo node code is newer it might be preferred to copy that nomenclature to the outdated text object code.
My only opinion is that the geometry node Y setting is the only place where the name "Middle" appears, in both text object alignment settings and even in the geometry nodes X setting, it is called "Center". I would think it should be changed to "Center", but I will do it the other way if that is preferred.