Hi,
I'm trying to make an addon and I would like to put all related scripts in a folder.
The problem is that I can't import the modules properly from the __init __ and they aren't taken into account by Blender. It works fine when I run all the scripts from the Text Editor but not when starting Blender and activating it from the Addon preferences (Note: I activate it without errors but the modules aren't taken into account, only the __init __ script is).
I tried copying the already ported addons, I tried googling the errors I was getting, but couldn't find a solution…
So the question is how do I properly include other modules?
It would be great if someone could look into it and write the lines of code I'm missing to make it work.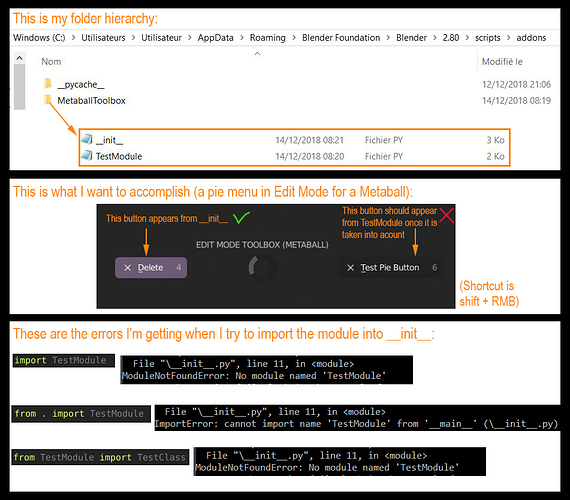 Here is the __init __ script:
bl_info = {
    "name": "Pie Menu: Toolbox Edit Mode (Metaball)",
    "blender": (2, 80, 0),
    "description": "Pie Menu Toolbox for 3D VIEW Edit Mode (Metaball).",
    "category": "Custom"
}

import bpy
from bpy.types import Menu

# import TestModule

#--------------------------------------------------------------------------------------
# F U N C T I O N A L I T I E S
#--------------------------------------------------------------------------------------

# EMPTY CLASS
class EmptyClass(bpy.types.Operator):
    bl_idname = "empty.class"
    bl_label = "Empty Class"
    bl_options = {'REGISTER', 'UNDO'}

    def execute(self, context):
        
        return {'FINISHED'}

#--------------------------------------------------------------------------------------
# P I E   M E N U
#--------------------------------------------------------------------------------------

class VIEW3D_PIE_EditModeToolbox_Metaball(Menu):
    bl_label = "EDIT MODE TOOLBOX (METABALL)"

    def draw(self, context):
        layout = self.layout

        pie = layout.menu_pie()
        
        pie.operator("mball.delete_metaelems", text="Delete", icon="X")
        
        pie.operator("test.class", text="Test Pie Button", icon="X")
        
#--------------------------------------------------------------------------------------
# R E G I S T R Y
#--------------------------------------------------------------------------------------

classes = (
    EmptyClass,
    VIEW3D_PIE_EditModeToolbox_Metaball
)

def register():
    from bpy.utils import register_class
    for cls in classes:
        register_class(cls)

    wm = bpy.context.window_manager

    if wm.keyconfigs.addon:
        km = wm.keyconfigs.addon.keymaps.new(name='Metaball')
        kmi = km.keymap_items.new('wm.call_menu_pie', 'RIGHTMOUSE', 'PRESS', shift=True)
        kmi.properties.name = 'VIEW3D_PIE_EditModeToolbox_Metaball'

def unregister():
    from bpy.utils import unregister_class
    for cls in classes:
        unregister_class(cls)
    
    addon_keymaps = []
    
    wm = bpy.context.window_manager

    if wm.keyconfigs.addon:
        for km in addon_keymaps:
            for kmi in km.keymap_items:
                km.keymap_items.remove(kmi)

            wm.keyconfigs.addon.keymaps.remove(km)

    addon_keymaps.clear()


if __name__ == "__main__":
    register()

And here is the TestModule script:
import bpy
from bpy.props import *
from bpy.types import WindowManager

#--------------------------------------------------------------------------------------
# F U N C T I O N A L I T I E S
#--------------------------------------------------------------------------------------

# EMPTY CLASS
class EmptyClass(bpy.types.Operator):
    bl_idname = 'empty.class'
    bl_label = 'Empty Class'
    bl_description = "Empty Class"
    bl_options = {'REGISTER', 'UNDO'}

    def execute(self,context):

        return{'FINISHED'}

#--------------------------------------------------------------------------------------
# O P E R A T O R
#--------------------------------------------------------------------------------------

class TestClass(bpy.types.Operator):
    bl_label = "Test Class"
    bl_idname = "test.class"

    def draw(self, context):
        layout = self.layout
        
        box = layout.column()
        box.label(text="TEST")
        
    def invoke(self, context, event):
        wm = context.window_manager
        return wm.invoke_popup(self)

    def execute(self, context):
        self.report({'INFO'}, self.my_enum)
        return {'FINISHED'}

#--------------------------------------------------------------------------------------
# R E G I S T R Y
#--------------------------------------------------------------------------------------

classes = (
    EmptyClass,
    TestClass
)

def register():
    from bpy.utils import register_class
    for cls in classes:
        register_class(cls)

def unregister():
    from bpy.utils import unregister_class
    for cls in classes:
        unregister_class(cls)

if __name__ == "__main__":
    register()