Hello,
When we want to modify a vertex group by removing some vertices it is not always easy because we don't see the final result, we just see a selection of the vertices we want to remove. It is a kind of inverted mind mapping because we have to select those vertices before removing them rather than directly remove them.
PROBLEM
The current operation to remove some vertices from a group is usualy, from what I know, a loop of the following actions:
Click on Select to see the current content of the group and to have in mind the vertices you want to remove;
Clear the selection;
Select the vertices you want to remove (hope you still have them in mind)
Click on Remove
Clear again the selection (indeed the "Select" button is in fact a "Add to current selection" action, not a "Clear and Select" - it would be nice if it were a real Select and we could do a Add and Select by pressing the Shift modifier key for example)
Well you can also play with the inversion of the selection, but it is not so much more intuitive…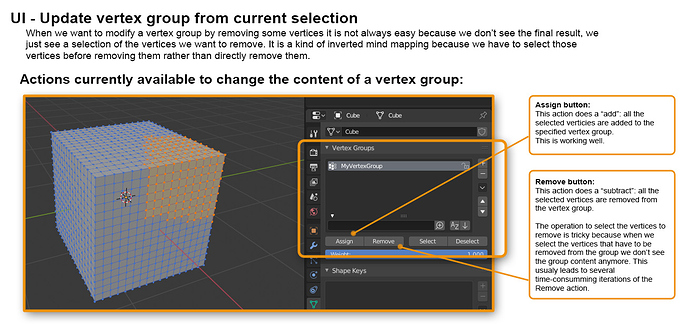 ---
SOLUTION
We suggest to introduce a new button labeled for instance "Update" or "Replace" that would completely replace the current content of the vertex group by the current selection.
With such a button modifying the content of the group, and especialy removing vertices, would become quite straightforward:
Select the content of the group by pressing the Select button
Change the current selection, remove the unwanted vertices
Press the new Update button: all the unwanted verticies are removed in a single click!
What do you think of that?
Maybe you know some addons that are already doing this?
Thank you for your feedback