Hi there,
would like to chime in here to say something about the beloved bevel modifier.
It is probably the most common modifier right beside solidify, subdivision surface and mirror.
2.79 for reference: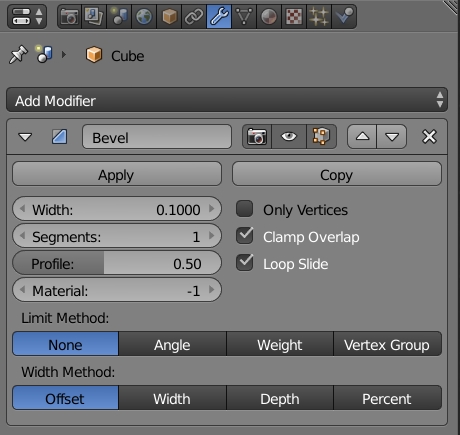 This is how it looked in 2.83: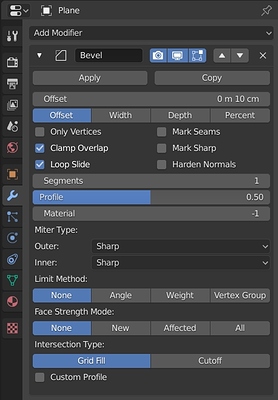 When everything is unrolled, more space is taken in 2.90+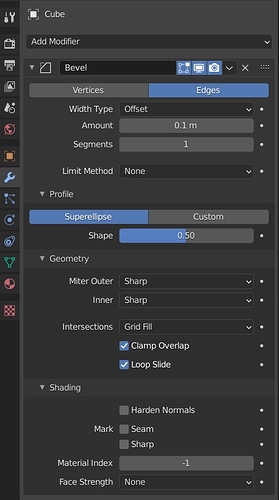 Make sense since usually it's hidden like this: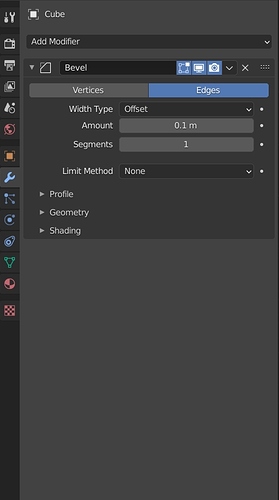 However that's the problem…
Suddenly I can't reach Angle, Clamp Overlap and Harden Normals fast from the main menu.
Angle is only through dropdown (2 clicks)
Clamp Overlap is in Geometry (2 clicks)
Harden Normals is in Shading (2 clicks)
Used to be 3 clicks and that's not half the time because you need to always find the option again inside the newly appearing menu.
And honestly when doing hard surface that's often what you'd like to do.
Clamp Overlap for meshes where certain geometry makes the entire Bevel disappear. Harden Normals for those great smooth bevels without much geometry and Angle because you don't want every flat edge to get bevelled.
Seems like a small niche issue but I'm sure lots of people use that on daily basis and it just gets dull.
I think I wouldn't even have a problem with that, if we could somehow
define DEFAULT modifier settings
for each modifier. I would definitely define Subdivision Surface to show all mesh, Bevel to use the settings I wrote and solidify to use "Even Width"…
Don't really remember how many times I ticked that "Offset Even, Harden Normals,
or uncheck the "Clamp Overlap" which often works well anyway just apart from one vertex having like 0.010 wrong bevel or slightly overlapping faces.
Thanks for considering.