Notes for weekly communication of ongoing projects and modules.
Announcements
Modules
Animation & Rigging
Data, Assets, and IO
VFX & Video
Projects
Geometry Nodes
The initial attribute lookup was implemented. The polishing pass will wait until categories are handled in the spreadsheet.
Initial spreadsheet editor work was sent for review. A prototype is in `temp-spreadsheet-editor'.
The spreadsheet editor design was presented to the modules (via bf-committers).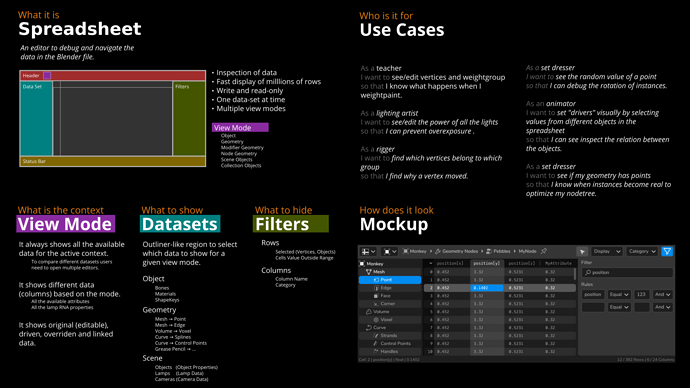 New Features and Changes
Cryptomatte
Read metadata from multilayer OpenEXR files (commit) (Jeroen Bakker)
Geometry Nodes
Expose vertex normals as a read-only attribute (commit) (Hans Goudey)
Add "Show in property editor" button to sample texture node (commit) (Philipp Oeser)
Grease Pencil
Implement auto-key button for Draw/Edit and Sculpt mode (commit) (Antonio Vazquez)
Modeling
Speedup for usual non-manifold exact boolean case (commit) (Howard Trickey)
Sculpt
Operator to expand masks and face sets (commit) (Pablo Dobarro)
User Interface
Video Sequence Editor
Improve scrubbing performance (commit) (Richard Antalik)
Weekly Reports