I am using Blender for modeling pretty much daily these days, and so far the biggest issue in terms of productivity seems to be very poor pivot workflow (it's still called origin in 2.8 but hopefully it will be finally renamed soon). Very often it is the case I need to transform pivot to the specific place, or snap it onto something, and only way to do that currently in Blender is painfully, via the 3D cursor tool. On top of that, pivot adjustments are possible only in object mode, requiring me to exit from edit mode every time I need to adjust pivot. Currently, this is where most of my time is getting wasted.
Since Blender is now heading in professional direction, one of the big things that should be addressed is a simple, straightforward direct pivot transformation, instead of indirect one though 3D cursor.
Furthermore, 3D cursor in general feels like an ancient excuse for proper implementation of 3D manipulators. Its only sensible purpose is to serve as a "custom" mode for manipulation center: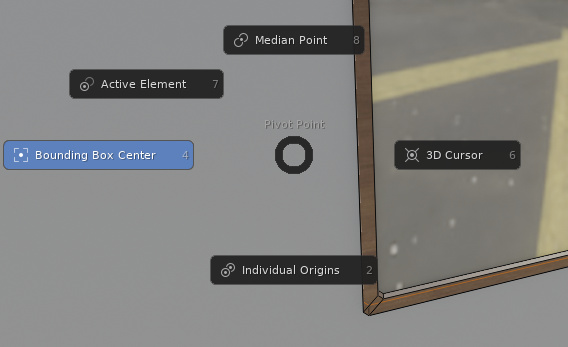 And should be hidden as long as the manipulation center mode is not set to it. Any other tools that require arbitrary placement of new elements within the scene should have this functionality already built in, not requiring user to first place some "aid entity", in this case 3D cursor, before they can actually start to use such tool.
In general, it would be very beneficial for modeling productivity if tools in Blender went in the direction of less and less reliance of 3D cursor, so ultimately 3D cursor could be removed altogether. No other 3D DCC out there has such concept, and as a consequence, any tools related to transformation, creation and placement of the objects at arbitrary place in scene are implemented in much faster and easier to use way.
EDIT: This has now been solved by addition of direct pivot transform mode. This thread is now obsolete.