Hi Clock! yes I can do that (I like talking to myself - sometimes it's the only way to get a decent answer
):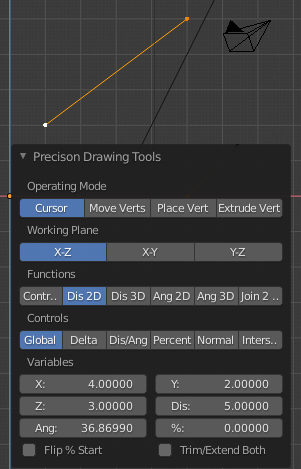 The node now measures the apparent length between the two vertices in any Global plane, or their separation in 3D space. The "Dis 2" and "Dis 3" Functions also fill in the X, Y & Z boxes with the X, Y & Z offsets between the Active vertex and the Other vertex. You can see here that the other vertex is offset 4 in X, 2 in Y and 3 in Z (making a 3-4-5 triangle in the front view) with a 3D length of 5.38516 (not shown in the dialogue as it is in Working Plane Mode). So you can measure with the dialogue to set the values for coords and distance as well as the angle.
I still cant get the "hotkey" to work… grrrrr!
Cheers, Clock.

EDIT: here is the 3D measurement shown: