Hello,
Media proxies are a cool and very helpful mecanics to improve the performances of a scene. They are everywhere, in VSE of course but in places such as the camera backgrounds.
The thing is at the moment they are a bit tricky to use because the proxy quality can be controlled from the place where the clip is used but the activation of the proxy itself has to be explicitely enabled - per clip - in the Movie Clip Editor. It can be a fastidious process, a workflow in itself, and improving this is quite a big topic.
But in the mean time I think there's something can be done in a more affortable time dev way by helping the user to understand what is happening when she doesn't get her expected result when changing a proxy setting.
Indeed when we set a clip to use a specific proxy value (25% for instance) and this clip proxy has not been explicitly generated in the Clip Editor then we get a pink rectangle instead of a lower resolution of our media… And we may not know why. And sometimes we have this pink feedback but the proxy is (or should have been) generated, which is even more confusing because we have no idea on the issue. … And that can be the start of a long and lonely adventure…
So what I suggest here is to introduce a set of built-in images clearly mentionning the cause of the issue to be used instead of the pink rectangle. Hence when a proxy is missing we could see on the image a text saying "Missing proxy". When a file is not found, "Missing Media". When the file is fond but it cannot be read, "Invalid media"… And so on.
We implemented that in the in-house software we used before switching to Blender and it provided pretty good results. Here are the images we had: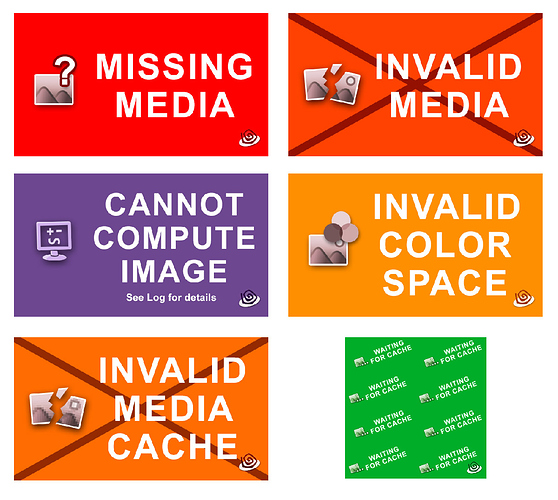 What do you think about that?