Attending: Dalai Felinto, Hans Goudey, Jacques Lucke, Pablo Vazquez, Simon Thommes.
Agenda and notes for upcoming meeting at 14:00 CEST on blender.chat. Interested developers and artists are welcome to join.
Links
Agenda
Confirm priorities for the next sprint

Wrap up previous week targets (curve, material, attribute list).
Viewer Node.
Attribute processor.
Design Discussions
Selection workflow discussion

New attribute for the nodes (new_edge, …)

Reserved name, not a "real column" (cannot be removed?).
Nodes can (should) clear and re-populate those columns.

Nodes that could use the input:

Any nodes with a Geometry input except:
[Join Geometry, Attribute nodes (if attribute processor), Separate/Combine XYZ (?)]

"Material Mask" vs. "Select by Material"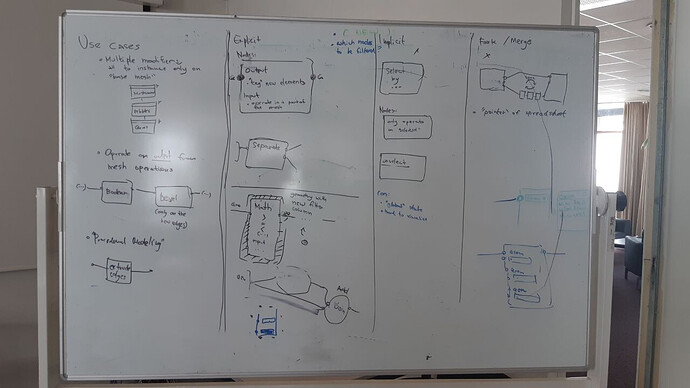 Feedback from product demo:
Next planning meeting: 2021-05-24 at 14:00 CEST on geometry-nodes on blender.chat.